Richard Morris Hunt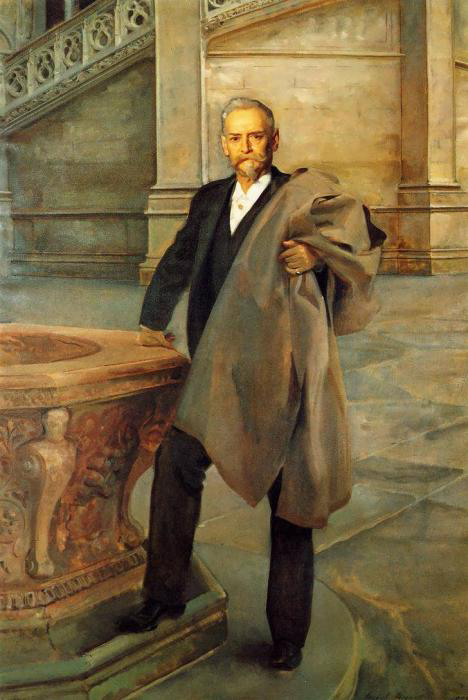 Portrait of Richard Morris Hunt, John Singer Sargent, oil on canvas, 1895. © Biltmore Estate, Asheville, North Carolina. Credit: RMHP
1827-1895
Richard Morris Hunt,

FAIA, a liaison between the United States and France
Excerpt by R. Randall Vosbeck, "A Legacy of Leadership: The Presidents of the American Institute of Architects
Highlights of professional career
Hunt returned to New York in 1855 and opened his Tenth Street Studio, modeled after the French atelier. His training at the École des Beaux-Arts, along with his extensive travels and work in the Lefuel atelier in Paris, undoubtedly made him one of the best prepared and trained architects in the United States, and he recognized the need for more adequate training of U.S. architects. In the atelier tradition, Hunt taught many young men, many of whom later became well known in the profession, among them Robert Ware, founder of the first collegiate school of architecture at MIT, and George Post and Henry Van Brunt, both of whom became AIA presidents. Hunt's atelier continued for many years, and he thus had a significant influence on how architecture education developed in the United States.
Even though Hunt was a relatively young man, his practice and his reputation grew rapidly. His first commission in New York City was a town house for Dr. Eleazer Parmly. Hunt's detailing was not particularly thorough, and Parmly refused to pay Hunt's fee. Hunt sued the doctor, and the verdict helped the profession affirm a fee schedule for architectural work, which differentiated trained architects from carpenter-craftsman. This verdict established Hunt's commitment to protecting and advocating for the professional rights of architects.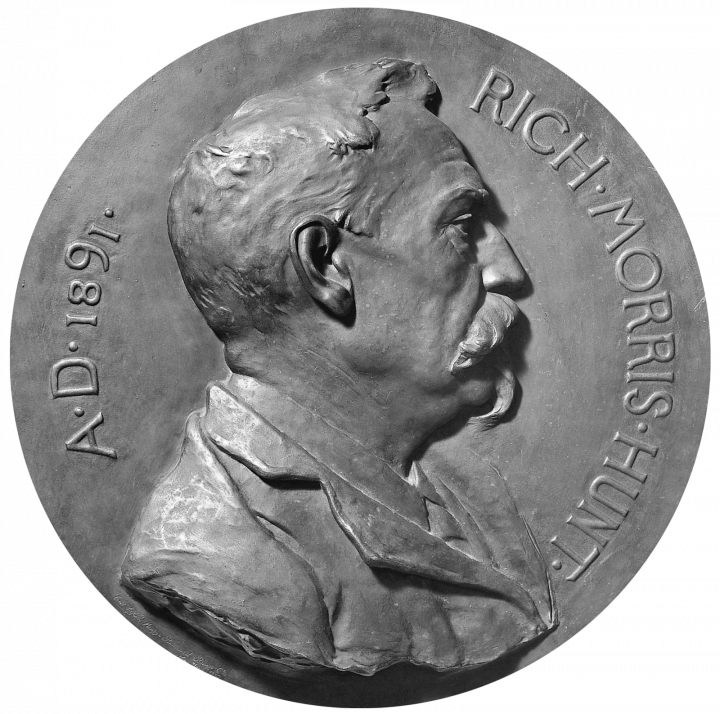 Karl Theodore Bitter, Richard Morris Hunt, sculpture, bronze, diam. 50.8 cm, 1891. Metropolitan Museum of Art, New-York – Don de la Erving Wolf Foundation
Hunt briefly worked for Thomas U. Walter in Washington, D.C., on the U.S. Capitol extensions. This is noteworthy as Hunt followed Walter as AIA president and, like Walter, he was known as the "dean" of American architects.
The Presbyterian Hospital in New York is among Hunt's earliest work. Its detached pavilions, with large windows for light and ventilation, showcased the latest ideas in health care design. The Lennox Library of the same era was monumental and dignified. His Stuyvesant Apartments (1869) on East 18th Street was the first American apartment building. This building, designed in a rather ostentatious French urban mode, established a precedent for grand houses for the social elite and the nouveaux riches of the Gilded Age.
Perhaps the most notable of Hunt's commercial work was the eight-story Tribune Building (1873; demolished 1966), one of the earliest with an elevator. At 260 feet, it was the tallest building in New York City except for the spire of Trinity Church. Hunt's design work can also be seen on the pedestal of the Statue of Liberty and the façade of the Metropolitan Museum of Art.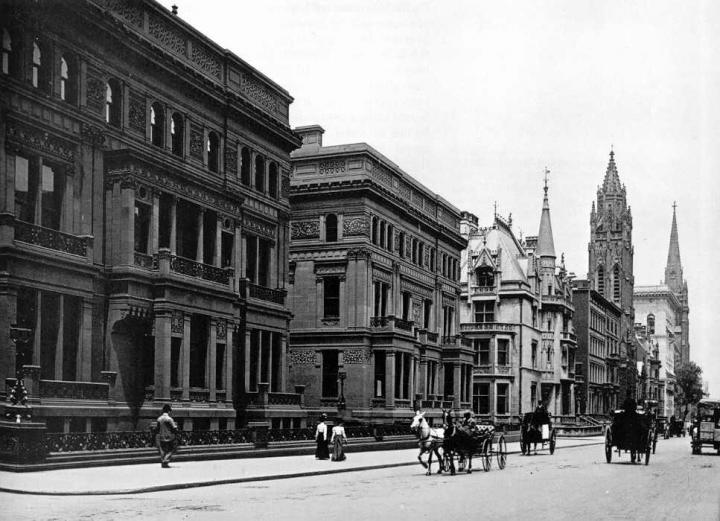 La Cornelius Vanderbilt II House était un bâtiment construit en 1883 1 West 57th Street in New York City. Il a été vendu en 1926 et démoli.
Hunt gained considerable attention for his design of numerous picturesque houses in Newport, R.I., the most fashionable resort of the time. His work set the stage for the "palace construction" that became popular in the late 19th and early 20th century. It has been said that designing large houses for wealthy patrons was perhaps Hunt's most gratifying work, and this building type became a significant portion of his practice. Hunt's friendship and association with the Vanderbilt family culminated in the design of the Biltmore House for George Vanderbilt in Asheville, N.C. This summer chateau, designed and built from 1888 to 1895, has 255 rooms and is set on 125,000 acres.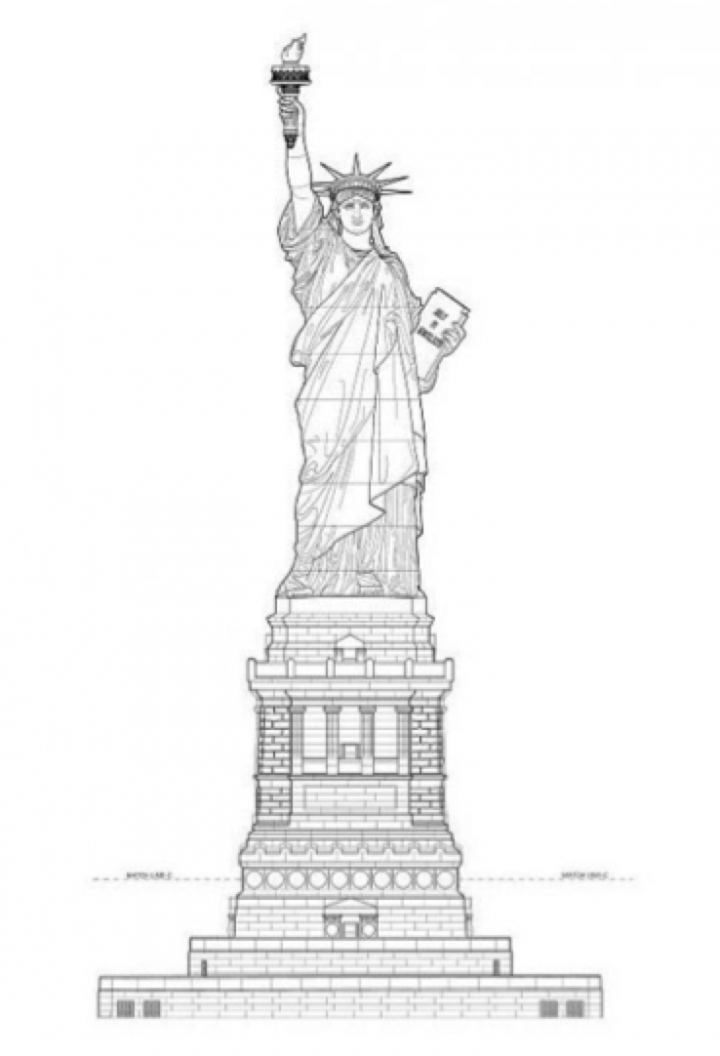 Statue de la Liberté, élévation du socle, Richard Morris Hunt, architecte, Liberty Island, New-York ©Library Of Congress, Washington Dc.
Hunt is also well known for his work on the 1893 World's Columbian Exposition in Chicago. Daniel Burnham, director of the works of the exposition, had called together many of the nation's most significant architects, mostly from the East, to serve as the fair's Board of Architects, and Hunt was elected by the board to serve as its chair. In commenting on Hunt's election to this position, Henry Van Brunt later wrote, "The natural dominance of the master again asserted itself without pretension, and we once more became his willing and happy pupils." Hunt helped establish the neoclassical character of the fair's buildings. The gold and white dome of his monumental Administration Building was the focal point of the exposition. The design of this building was instrumental in the selection of Hunt to receive the Queen's Gold Medal of RIBA.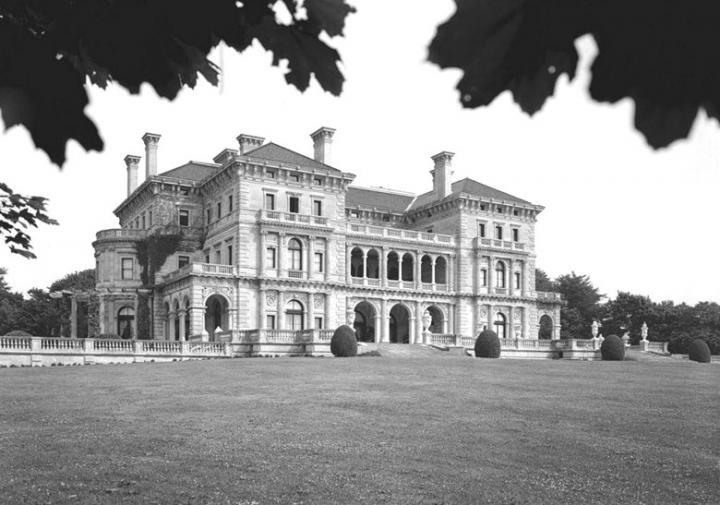 The Breakers, Newport, Rhode Island, 1892–95, conçu par Richard Morris Hunt pour Cornelius Vanderbilt. Sources RMHP
Recognition and honors
Richard Morris Hunt's significant achievements in design, education, and many other aspects of the profession brought him the following honors:
Honorary member, Académie des Beaux Arts, Institut de France, 1882

Chevalier, Legion d'Honneur, 1884 n Member, Société Centrale des Architectes Français, 1886

Honorary member, Royal Institute of British Architects, 1886 n Honorary member, Engineers' and Architects' Society of Vienna, 1887

Honorary Doctor of Law, Harvard University, 1892 n Honorary member, Society of Architects/Amsterdam, 1893

Queen's Gold Medal of RIBA, 1893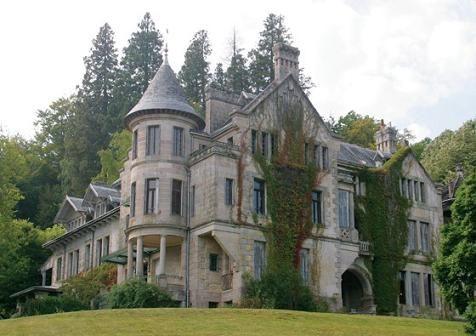 le chateau de Montméry, commune de Lambazac (Haute Vienne) . Le projet est attribué à Richard Morris Hunt pour son ami le porcelainier Théodore Havilland qui s'y installa à partir de 1875
Bibliographie indicative
Ouvrages monographiques
LOYER (François), Claude MALECOT, dir. et Jean Paul MIDANT, doc, Richard Morris Hunt, architecte, 1827-1895 : La tradition française en Amérique, cat. exp., Paris, Hôtel de Sully, 24 mars-15 mai 1989, Paris, Caisse nationale des monuments historiques et des sites, 1989.

125 p.

STEIN (Susan), éd., The Architecture of Richard Morris Hunt, Chicago et Londres, University of Chicago Press, 1986. 192 p.
BAKER (Paul R.), Richard Morris Hunt, Londres, MIT Press, 1980.

588 p.
Ouvrages généraux
KATHRENS (Michael C.), Great Houses of New York, 1880-1940, vol. 2, New-York, Acanthus, 2013.
—— et Richard C. MARCHAND, Newport Villas : The Revival Styles, 1885-1935, New-York, W.W. Norton, 2009.
——, Great Houses of New York, 1880-1930, New-York, Acanthus Press, 2005.
BENJAMIN (Susan S.) et Stuart COHEN, Great Houses of Chicago, 1871-1921, New-York, Acanthus Press, 2008.
MATEYUNAS (Paul J.), North Shore Long Island : Country Houses, 1890-1950, New-York, Acanthus Press, 2007.
MOORE (Charles), Gerald ALLEN, Donlyn LYNDON, William TURNBULL, The Place of Houses, Berkeley, University of California Press, 2000.
ALPERN (Andrew), New York's Fabulous Luxury Apartments : with original floor plans from the Dakota, River House, Olympic Tower, and other great buildings, New-York, Dover Publications, 1987.
Articles
GILL (Brendan), « Historic Houses : The Breakers », Architectural Digest, vol. 52, n° 4, avr. 1995, p. 134-143.
PICON (Antoine), dans L'architecture d'aujourd'hui, n° 263, rubrique « Expositions », juin 1989, p. 76-77.
Monuments historiques [revue], « Richard Morris Hunt, 1827-1895 : hôtel de Sully, 25 janvier-4 avril 1989 », compte-rendu du catalogue de l'exposition, n° 160, déc.-janv. 1989.
CHEROL (John A.), « Historic Architecture : Richard Morris Hunt », dans Architectural Digest, vol. 42, n° 10, oct. 1985, p. 130-137.
STEIN (Susan R.), « Some of the New York City houses of Richard Morris Hunt », Antiques, vol. 129, n° 4, avr. 1986, p. 846-853.
COLES (William A.), « Richard Morris Hunt and his library as revealed in the studio sketchbooks of Henry van Brunt », The Art Quarterly, vol.

XXX, n° 3-4, automne-hiver 1967, p. 224-238.

Congrès international des architectes : troisième session tenue à Paris du 17 au 22 juin 1889 : Organisation, compte rendu et notices, Paris, 1896, p. 386-388.
L'Architecture [revue], « Richard Morris Hunt », notice nécrologique, dans, 1895 (5666), p. 297.

La semaine des constructeurs (périodique), « Hôtel Vanderbilt, 5e avenue à New-York », vol. 12, n° 51, 16 juin 1888, p. 606-608 ; et vol. 12, n° 44, 28 avr. 1888, p. 522.