— Publié le 07/12/2019 — par Véronique de la Hougue
Tribute to Richard Morris Hunt to celebrate 30th anniversary at École des Beaux-Arts
Visite de l'ENSA Paris-Malaquais qui a accueilli tant d'architectes dont Richard Morris Hunt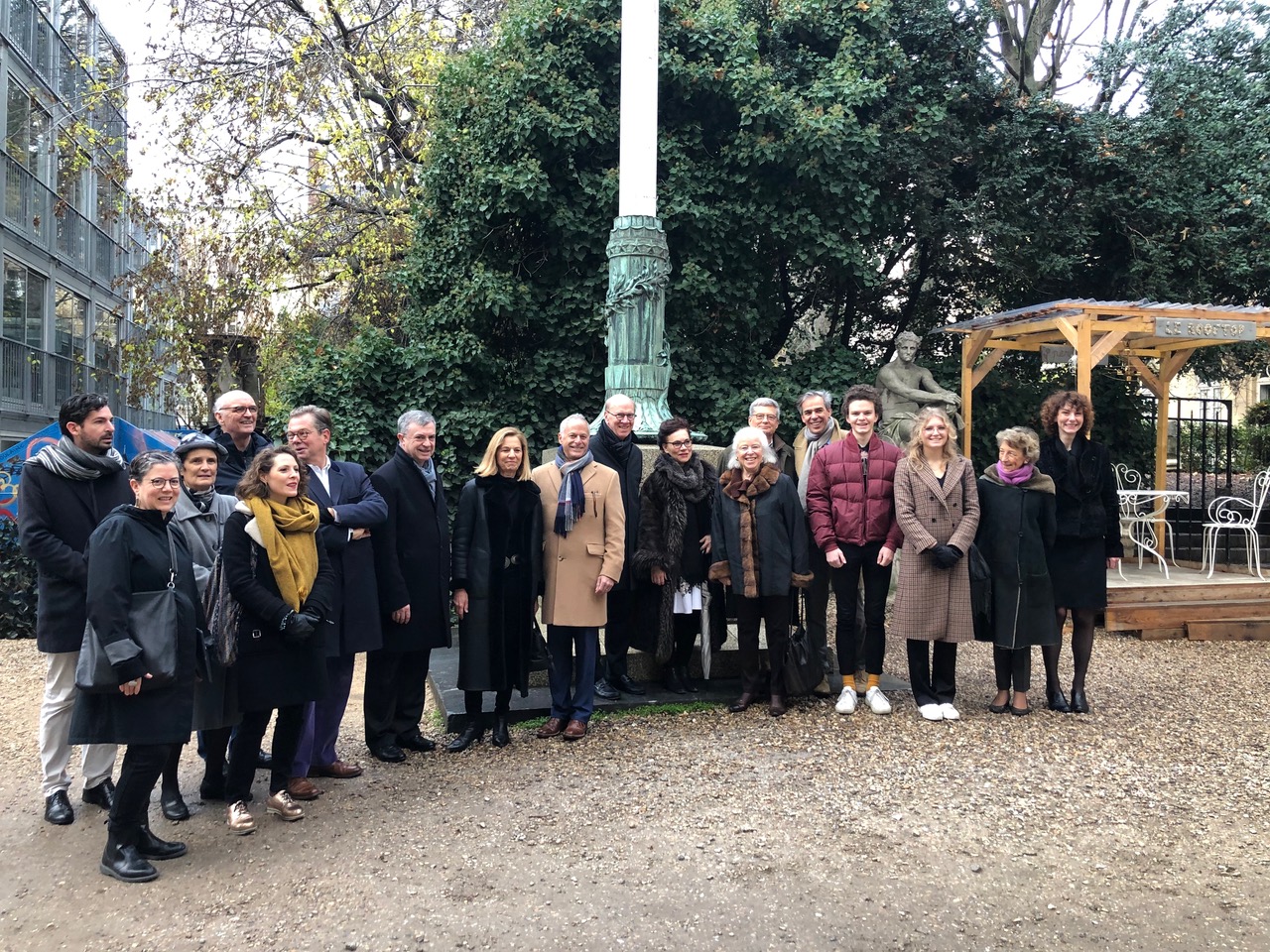 Visit to ENSA Paris-Malaquais, where many renowned architects, including Richard Morris Hunt, have studied
Jean Luc Liogier, Director of ENSA Paris-Malaquais, welcomed us and gave us a tour of the school where so many architects, including the visionary Richard Morris Hunt, have learned.
Bérénice Gaussuin, lecturer at the school and 2020 RMHP laureate, as well as Ariela Katz, an American professor, led us to the monument American students erected in the 1930s.
Jean-Pierre Lecoq, mayor of the Sixth Arrondissement, gave a welcome address. Speaking directly to Robert Ivy, Executive Vice President of AIA, and James Walbridge, President of AF, Mayor Lecoq highlighted the many ties that the Sixth Arrondissement has with the US, including the fact that Benjamin Franklin stayed there during his time in Paris.
After the welcome message, our group walked to the oak tree planted in the Hôtel de Chimay garden by RMHP in 2015 to celebrate its 25th anniversary. The most distinguished members of the group were given acorns.
Afterward, our visit continued with a tour to the school by two teachers who recounted the institution's history. They took us to the courtyard entrance at the Amphithéâtre d'Honneur, passing through the Palais des Études designed by François Debret, and underscored the important role Félix Duban played in designing the school. Then we spent time admiring the collection of works and the molding in the chapel.
We capped off the morning with a friendly aperitif with Isabelle Penicault, a director at the school.